TOP 10 SABAH, BORNEO ITINERARIES 2019
Sabah, spreading across the northern tip of Borneo Island, seemingly endless beaches, rocky foreshores and coastal mangroves, romantically known as the Land Below the Wind is certainly a haven for short getaways. Well known for its natural attractions and rare wildlife, not to mention the diverse culture and heritage like none other places, there are so many places to visit. Here are the TOP 10 attractions to be included in your trip.
MOUNT KINABALU – The Highest Peak in Borneo
Mount Kinabalu, the highest peak of the Crocker Range, which is the backbone of Borneo Island, is the prominent landmark of Sabah which is only an hour and half drive away from the capital city of Kota Kinabalu is certainly not a place to miss. Holding the title as Malaysia's tallest peak at 4,095 metres, Mountain Kinabalu is a world heritage site. Those with a sense of adventure can book a trip to climb Mount Kinabalu and we believed you'll be rewarded with an owe-inspiring view of the sun rising over Borneo. Climbing to the summit through Kinabalu Park take two to three days. Ascending to the peak and catch the first ray of dawn at the apex of the mountain is surely an experience out of the world.

KINABATANGAN RIVER – Search for the Endemic Creatures in Wild
Kinabatangan River is the longest river in Sabah, glowing 560KM from the mountainous interior to Sulu Sea, is said to have the greatest concentration of wildlife in all of Southeast Asia, offers the most accessible wildlife viewing for visitors. Kinabatangan River is the realm to a plethora of rare wildlife. Famous creatures of Kinabatangan include world smallest elephant – Pygmy Elephant, long tailed macaque, leaf monkeys, gibbons, Orang Utan and Proboscis Monkeys. All eight species of Borneo's hornbills are found here, with rare species such as Bornean Bristlehead, the endangered Storm's Stork, Kingfishers and many more making it a birder's paradise as well. It offers the very best of wildlife watching as you trek through the jungle during the day and cruise along the river at night. It is certainly a tropical hideaway that is sure to blow your mind away.
SIPADAN ISLAND – World Class Diving Paradise
Scuba divers from all around the world are drawn to Sabah, which is right in the heart of the world's most diverse marine environment. Sipadan Island, the globally renowned diving destination, hailed as one of the world's best dive sites, and was praised as "an untouched piece of art, a jewel" by Jacques Cousteau. Sipadan lies five degrees north of the equator in the Sulawesi Sea (Celebes Sea). More than 3000 species of fish and hundreds of coral species have been classified in this richest of ecosystems.
A limestone pinnacle rising 600 meters from the ocean floor off Sabah's southeast coast, Sipadan offers an ever-changing underwater spectacle including giant schools of Barracuda, astonishingly varied reef fish, unusually large numbers of green and hawksbill turtles which gather there to mate and myriad of colorful coral. Apart from that, Mantas, Eagle Rays, Hammerhead Shark, and Whale Shark can also be seen, as well as an abundance of macro life. Sipadan Island has limited carrying capacity for environmental reasons. No accommodation is available on the island and divers will opt to stay at the resort in nearby island, like Mabul Island, Kalapai Island or Semporna. Being able to enjoy the serenity you find under the surface is absolutely fantastic.
SEPILOK – A Date with Man of The Forest
Orang Utan – also known as "Man of The Forest", have long fascinated mankind and been found to be 96.4% similar to human genes. Orang utans are gentle and shy creatures, which is why it is rare for them to be sighted in the wild. Nevertheless, at Sepilok Orang Utan Rehabilitation Centre, you are able to see and interact with this endangered animal up close in their natural habitat.

This sanctuary situated within the Kabili-Sepilok Forest Reserve and started in 1964 for rehabilitation of orphaned baby Orang Utans from logging sites, plantation and illegal hunting, returning them to the wild as soon as they're ready. Just like a human baby, the orphaned young Orang Utan, which normally live with their mother for 6 years need to be taught on how to cope in the wild before they can return to the wild.
Sepilok is the world's largest Orang Utan Rehabilitation Centre which aims to instill the importance of wildlife conservation. There are two feeding session daily – 10am & 3pm, the feeding platform can be reached via a boardwalk through the lush forest. Sometimes, there are young Pongo wandering up to you on the boardwalk, even it is hard to resist but remember not to touch them to prevent the spread of human disease to these unique creatures.
SELINGAN ISLAND – The Ballerinas in The Sea
One and a half hours by boat to the North of Sandakan, lies a tiny dot of an island named Selingan Turtle Island. Designated as turtle island marine park, Selingan, Bakungan Kecil and Gulisan Island are safe haven for the endangered Green Turtles and Hawksbill Turtles. Take note that only 50 visitors are permitted to stay each day on Selingan Island and only overnight tour is available. Nothing could be as uplifting as watching baby turtles that just hatched and paddle their way back to the ocean.

One of the interesting fast of sea turtle is they only lay their eggs in their original birthplace.  At Selingan Island, you have the opportunity to witness turtles laying eggs and hatchlings being released into the sea that happen every night throughout the year!
DERAMAKOT FOREST RESERVE – Home of Borneo's Wildlife
Located in the heart of Sabah, Deramakot Forest Reserve (DRF) is a hidden gem. It has been documented that about 75% of mammals in Sabah can be found within this forest reserve such as Orang Utan, Pygmy Elephants, Tembadau (Banteng), Malay Civet, Red Giant Flying Squirrel and Clouded Leopard. Strictly no walk-in visitor. In fact, Deramakot is one of the few places in Borneo where all 5 Bornean cat species can be found!
Deramakot Forest Reserve is the first natural tropical rainforest in the world to be certified as "well-managed" by the Forest Stewardship Council. This 55,507-hectare forest has also earned the rare distinction for being the longest certified rainforest in the world by the Forest Stewardship Council since 1997. It is only accessible by four-wheel drive vehicles and the Forest Reserve offer only basic accommodation. All visitors required permit to enter Deramakot and strictly no walk-in allowed. Looking for lush wonder of nature? A visit to this destination, will surely not disappoint.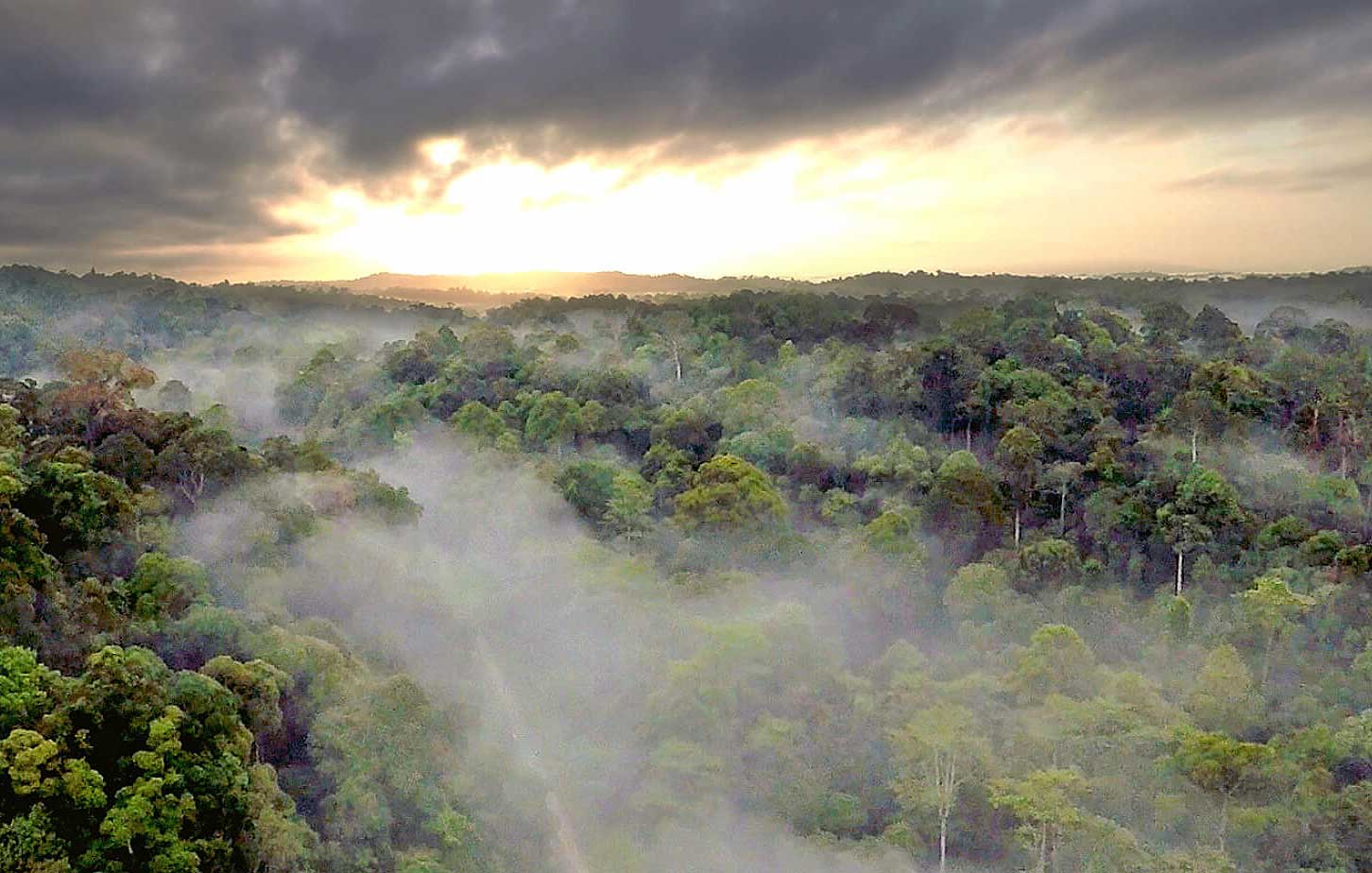 DANUM VALLEY – An Untouched Nature Paradise 
Danum Valley – an untouched paradise in the heart of the natural world, located 80KM inland from Labah Dato, a town of Sabah, Borneo. It is one of the remaining reserves of primary lowland rainforest which is said to have the world's most complex eco-system, and home to over 275 bird's species, numerous reptiles, amphibians, insects and over 110 mammals, including Clouded Leopard, Bornean Pygmy Elephants, Orang Utans, Bornean Gibbon and many more! Danum Valley also a famous bird watching destination in Sabah, Borneo. Observing wildlife on top of the giant forest trees at Danum's canopy walkway, it is possible for you to see the nests made by Orang Utan, spot some rare bird species or to catch a sight of a "flying lizard". All tours must be pre-arranged in order to obtain necessary permits.
MARI-MARI CULTURAL VILLAGE – Taste the Culture in Sabah, Borneo
With more than 30 indigenous groups making up the population of about 3.5 million, Sabah is Malaysia's most diverse state. The largest indigenous group – the Kadazandusun, consists of many sub-tribes whose costumes and headgear tell them apart. Once longhouse dwellers in the interior of Sabah, the Murut were renowned hunters, and feared for their head-hunting in days gone by. Besides, there are two groups of Bajau ethnic found in Sabah – The East Coast of Bajau who celebrate Regatta Lepa festival, and the West Coast of Bajau known as "Cowboys of the East". Not to forget the Rungus Tribe, who are famous for their intricate skills in beadwork. The beadwork often tells a story about hunting in the olden days. Wherever you are and whatever the occasion, you are invited to celebrate unique festival with Sabah's warm and friendly people.
 The journey to Mari-Mari Cultural Village allows you to soak in the cultures of the 5 indigenous tribes of Sabah. It is truly a genuine experience in which the village with the warmth of different homes of the ethnicities takes you back in time. Daily activities of old times such as rice-wine making, blowpipe shooting and tattoo making are showcased and is sure to sate your curiosity for the history, culture and tradition of Sabah that are not forgotten.
PADAS WHITE WATER RAFTING – Nerve-wracking Experience
With its varied and often challenging environment, Sabah is perfect for adventure tourist. We did mention about Mount Kinabalu before, but the adventure does not end there. Sabah has numerous attractions waiting to be explored, such as Padas White Water Rafting.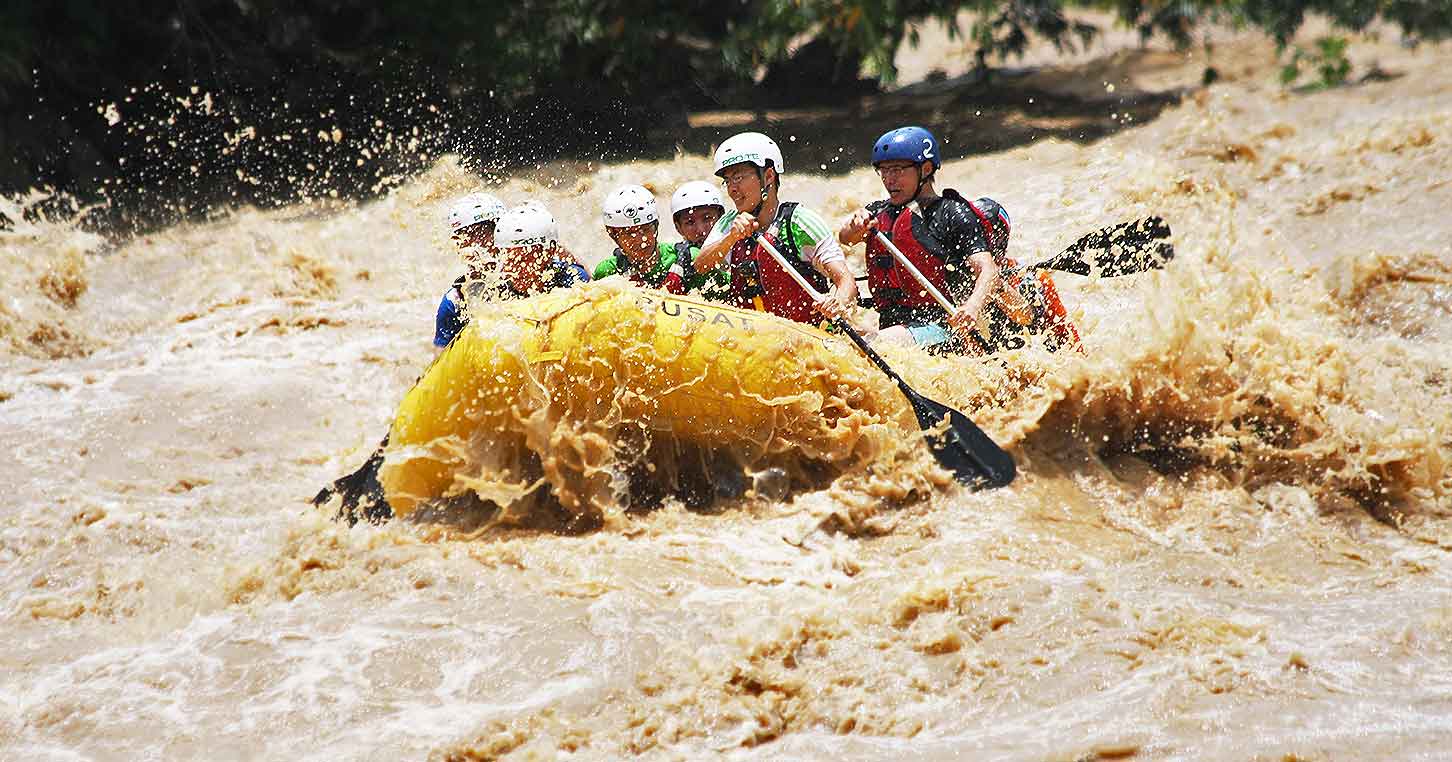 Padas River located in the interior division of Sabah that can only be accessed by train. The journey began with two hours' drive to the railway station at Beaufort town from Kota Kinabalu city center, and continue board on an ancient WWII diesel train to Pangi Station (starting point). This exhilarating excursion covers a distance of 9 kilometers that holds eight exciting Level 2 to 4 rapids that had unusual names, such as Head Hunter, Lambada, Cobra, Scooby-Doo, Washing Machine, Mary Go Round, Snake House And Bbq rapids!
Padas River has also been rated to have some of the best and safest rapids in South East Asia. Feel the thrills as you raft through rapids and experience the nerve tingling excitement of battling the awesome waves!
KOTA KINABALU CITY TOUR – The Jesselton Town
After you've had your fix of nature sightseeing along with the local cultural experience, it's time for some neon lights, shopping and city tour. Kota Kinabalu offers you a variety of things to be purchased from handicrafts and souvenir to unusual food, clothing, shoes and many items to bring back home as remembrance. The popular shopping spots in Kota Kinabalu are Gaya Street, Sunday Market, Handicraft Centre and shopping malls such as KK Times Square, Warisan Square, Centre Point, Wisma Merdeka, Suria Sabah and Imago.
Among the many places you could visit in the city are City Mosque, Atkinson Clock Tower, Sabah Museum and Signal Hill Observation Platform which offers a view down over the city and out to the island beyond. A city tour around Kota Kinabalu will surely end your trip in Sabah at a fruitful note!