SANDAKAN TOUR – The Nature City & Home of Borneo Wildlife
In the vast rain forest of North Borneo, lies a region unlike any other. Sandakan is a city in the Malaysian state of Sabah, on the northeast coast of Borneo. Here, nature and adventure come alive to sweep visitors away to a mesmerizing, intriguing world.
Sandakan, once known 'Elopura' means 'The beautiful city', is one of the important roles in Sabah and a must visit for every traveler at least once in a lifetime. Sandakan Tour is the getaway for every traveler need, a world made up of animal kingdoms, mystical prehistoric caves and amazing flora. The uniqueness of Sandakan Tour includes:
Experience green turtle hatching in Selingan Turtle Island and Lankayan Island

Search for Pygmy Elephant – The world smallest elephant in Kinabatangan River

Meet the 'Man of the Forest' at Sepilok Orang Utan Rehabilitation Centre

Visit the world's smallest sun bear at Bornean Sun Bear Conservation Centre

Discover the unique of Borneo's flora and fauna in Rainforest Discovery Centre

Be friend with endangered Proboscis Monkey which found only in Borneo.

Explore Gomantong Cave – one of the biggest cave systems in Sabah.

HERE IS  9 TOP PLACES TO VISIT IN SANDAKAN
1. Selingan Turtle Island
Selingan Island – can be reached from Sandakan in 1 hour by boat and is located in the waters of the Sulu Sea. It is a safe heaven for the endangered green turtles and hawksbill turtles and gives you the rare opportunity to watch turtle landings. There is park's headquarters, a turtle hatchery, tourist accommodation and basic facilities on the island.
As turtle landings usually occur after dusk, an overnight stay would be the best plan to see the turtles as they come ashore to lay their eggs. All you have to do is wait for ranger tells you it's "turtle time!", but shining a light on them or using camera flashes should be avoided as either can be stressful on the creatures. Transplant the eggs into the hatchery to safe from predators and participate in the process of release freshly hatched baby turtles to the sea also part of the amazing experience. With the clear turquoise sea and reefs, turtle is not the only attraction here.  You can also swim and snorkeling or simply sun bathing. Arrangements can be made with the local tour agency earlier due to the daily limit and carrying capacity. This is one of the MUST GO Sandakan Tour!
Click here to read full article of Selingan Turtle Island – About Selingan Turtle Island
Fun facts about turtle: Did you know that the temperature around the turtle can set the sex of the turtle? Lower temperatures lead to a male while higher temperatures lead to female.
2. Lankayan Island
Lankayan Island – a jewel-like tiny island in the Sulu Sea, has been declared part of an immense Marine Protected Area to adopt the eco-tourism concept. Unpopulated and covered by thick tropical island vegetation on its topside, this peaceful, untouched little bit of paradise is ringed by an endless pure white sandy beach, offering simply elegant and exquisite accommodation in all 23 wooden, roomy and perfectly appointed seafront chalets. While the ideal destination for those who search for tranquility and relaxation in a virgin natural setting and for families with children, Lankayan Island is also becoming one of the hottest diving destinations on the map today.

Situated within the Sea Turtle Corridor, Lankayan Island is also a nesting place and foraging ground for sea turtles; most commonly Green and Hawksbill Turtle.  Therefore, you might have a chance to see turtles nesting as well as new hatchlings of baby turtles released to the sea.
3. Rainforest Discovery Center
If you love rainforest, you have to put this in your Sandakan Tour bucket list. Rainforest Discovery Center situated in the Kabili-Sepilok Forest Reserve. It is one of the most popular environment education (EE) centers, only ten minutes away from Sepilok Orang Utan Rehabilitation Centre, approximately 30 minutes' drive from Sandakan Airport. The 147- meters long canopy walkway could be an amazing experience for all visitors where you can enjoy a spectacular view of the beautiful rainforest (28 meters above ground).
RDC is the places where you can get to know more about the uniqueness and importance of Borneo's' Rainforests. More than 250-species of orchids as well as pitcher plants and aquatic plants can be found here at the Plant Discovery Garden.
Besides, Rainforest Discovery Center is the perfect place for bird lover as you might spot the famous Bornean Bristlehead here! As of 2009, RDC has also become the official venue for the annual Borneo Bird Festival which attracts the participation of birding enthusiasts from all over the world. Rainforest Discovery Center also offers a night walk along the trail for visitor to catch a glimpse of the wildlife in the rainforest such as flying squirrels, cute tarsiers, wily civet cats and various of insects.
4. Bornean Sun Bear Conservation Centre
Visit the adorable and world's smallest sun bear at Bornean Sun Bear Conservation Centre, which is just 20km from Sandakan town. Their name comes from the pale horseshoe shape on their chests, which is said to resemble the rising sun. This marking is special and play a role as an identity of each sun bear.
Bornean Sun Bear Conservation Centre is the only sun bear conservation centre in the world that aims to provide care and rehabilitation for rescued sun bears, and to raise awareness both locally and internationally.
The centre is equipped with key facilities including an observation platform, boardwalk and a visitor centre. Due to the location just right next to the Sepilok Rehabilitation Centre, so it is best to plan your trip to visit this place too!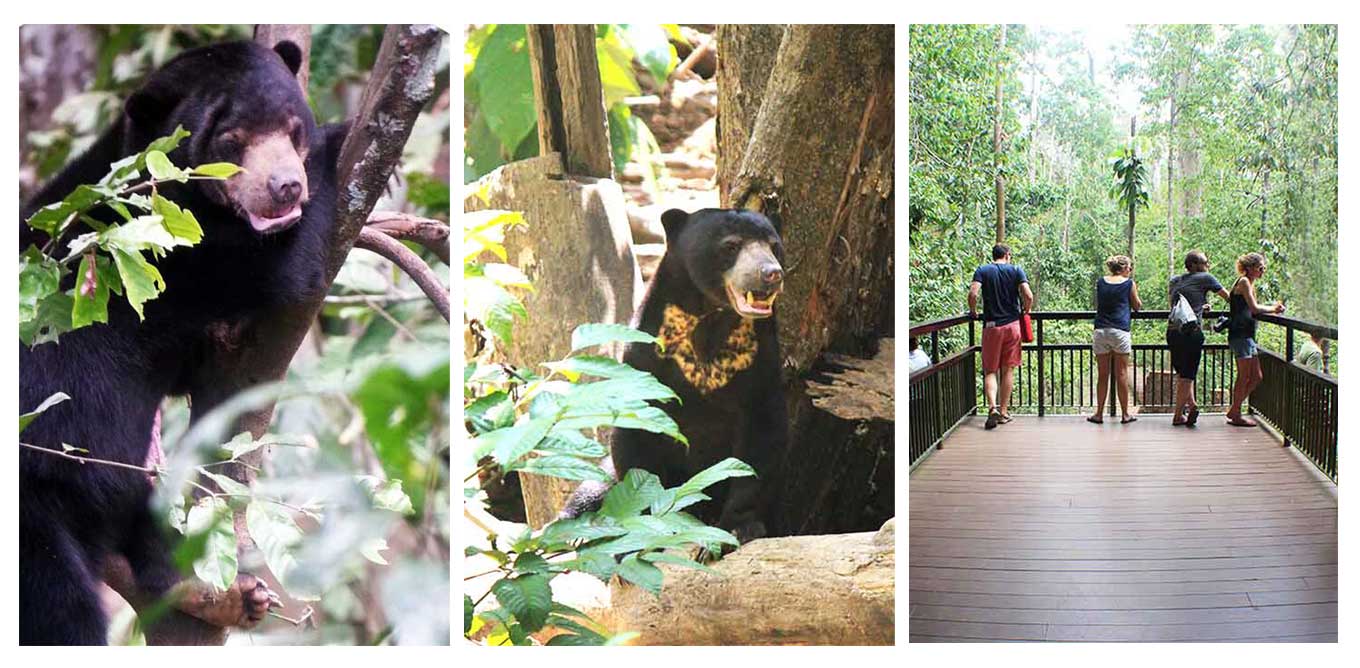 Fun facts about Bornean sun bear: Did you know Bornean Sun Bear create nesting sites for animals such as hornbills and flying squirrels? by tearing open tree trunks to reach the honey inside.
5. Kinabatangan River
In your Sandakan Tour planning, do not miss out Kinabatangan River Cruise. The Kinabatangan River, Sabah's longest river, is one of the most exciting and accessible places to explore the rich biodiversity of Sabah, Borneo. The surrounding areas along the river consists of 5 distinct habitats have evolved, waterlogged and dry forests, saline and freshwater swamps and limestone forests.
Kinabatangan River offers an incredible opportunity to see large range if wildlife including Borneo's unique Proboscis Monkey, the Orang Utan, Bornean Pygmy Elephant, crocodiles, otters and countless rare and beautiful birds. All the eight species of hornbill found in Borneo make the area their home.
A trip up the river at dawn or dusk is the best opportunity to see the wildlife. Optional tours can be arranged for night safaris as well to spot crocodiles, birds and nocturnal animals.
Fun facts about Bornean Pygmy Elephant: Did you know Bornean Pygmy Elephant can achieve a speed of 43kmph and no human on earth can beat them in running?
6. Sepilok Orang Utan Rehabilitation Centre
 Orang Utan (Pongo Pygmaneus) is one of the rare creatures to be seen. However, you can find them at the Sepilok Orang Utan Rehabilitation Centre, which located 40 minutes away (23km) from Sandakan town.
Sepilok Orang Utan Rehabilitation centre sprawls over 4,294 hectare of virgin jungle reserves rich in tropical rainforest and mangrove swamp, this sanctuary serves to rehabilitate orang utans that have been abandoned by their mothers, or were formerly in captivity.

You'll be able to witness the feeding sessions at 10am and 3 pm from a platform and viewing gallery reached via a boardwalk through the lush forest, and later learn even more in the information center.
Fun facts about Orang Utan: Did you know Orang Utan use leafy branches to shelter themselves from rain and sun? They also build their own nest every night on top of tree!
7. Labuk Bay Proboscis Monkey Sanctuary
Labuk Bay Proboscis Monkey Sanctuary offers a perfect observation spot for those who wants to have a closer look at Borneo's indigenous proboscis monkeys. The Sanctuary is located at the centre of the mangrove forest along the coastal land near to Labuk Bay, Sandakan.
The Proboscis Monkey (Nasalis Larvatus) called by local people as Monyet Belanda is one of the most unusual looking monkeys in the world. Proboscis monkey is named for its big dangling noses. A visit to Labuk Bay Proboscis Monkey Sanctuary would definitely give you one of the most exhilarating and memorable experience observing this endangered species both young and adult leaping from tree to tree real close.
There are feeding session at Platform A at 9.30am and 2.30pm and Platform B at 11.30am and 4.30pm. Besides, you'll be able to spot Silver-leaf monkeys and hornbills as well. The sanctuary also has a lodge with air-conditioned twin or double rooms, family chalet and dormitories for those who wish to stay overnight.
Fun facts about Proboscis Monkey: Did you know Proboscis Monkey is a good swimmer? They have webbed toes, an adaptation that enables them to swim underwater and dive as well!
8. Gomantong Cave
Gomantong Cave is a limestone outcrop, situated in the district of Kinabatangan around 2-hour drive from Sandakan. There are two cave complexes – Simud Hitam (Black Cave) soaring up to 90 metres high and the more accessible of the two, and Simud Putih (White Cave), where the more valuable nests are found. Black Cave is a five- minute walk from the registration centre. A well-maintained boardwalk gives you easy access to do some exploring.
The resident creatures of the caves include swiftlets (from which the nests are collected) and bats among others. Outside, other birds such as serpent eagles, bat hawks and kingfishers can be seen. You might even spot an orangutan or two.
Licensed collector risks their lives climbing to the roof of these cave complexes in a dangerous way that involves only rattan ladders, ropes and poles precariously attached together twice a year. Gomantong Cave are is under management of Sabah Forestry Department.
9. Sim-Sim Water Village
 Another top place to visit in Sandakan but not because of the nature but the food! One of the must-do things when you go to Sandakan City is food! There are really a lot of delicious Sabah food you must not miss in your Sandakan Tour, especially fresh and variety of seafood! One of the best places for seafood in Sandakan is Sim-Sim Water Village, which only few KM away from Sandakan town.
Sim Sim Water Village built up by hundreds of wooden stilt houses on the sea which has over one century of history. Imagine dining in a floating restaurant overlooking the Sulu Sea with the smell of ocean on the breeze.
You should try food in Sandakan like Fried Baby Squid, Clams, Prawn Balls, Butter Prawn, Spring Noodle and Century Egg Dumpling. The most famous dining area is on 7th and 8th bridge.
Take a walk along the bridge and you buy some local-made food as souvenir for friends/family. They are famous with prawn cracker and salted fish. Sim Sim Water Village is always worth a visit when you happened to be here in Sandakan!